Start
Om mig/About me
Honor/Females
Hanar/Males
Kattungar/Kittens
Kullar/Litters
Änglar/Angels
Galleri/Gallery
Kontakt/Contact
Länkar/Links
Gästbok/Guestbook
Uppdaterad 2011-01-23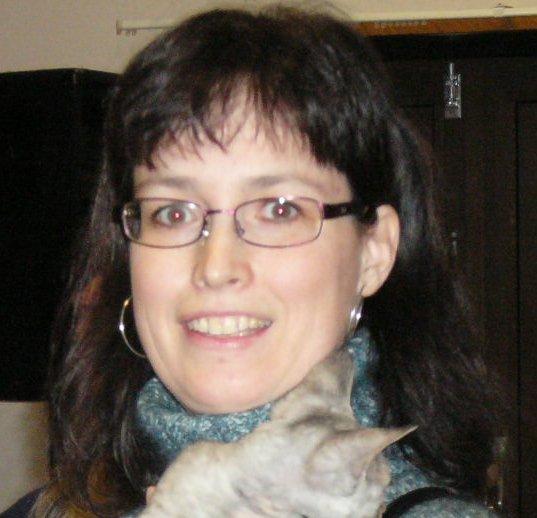 Jag heter Cecilia Börjeson och har en uppfödning av devon rex under stamnamnet S*Rexilia´s. Jag bor i Götene (som ligger nedanför Sveriges största insjö Vänern) tillsammans med min 10-åriga son Anton. Mitt djurintresse har alltid varit stort och till min stora lycka älskar också min son djur. Under min uppväxt har jag haft två svart-vita huskatter (Mirre och Snobben), ökenmöss och även varje flickas dröm – två ponnyer (Kermit o Zorro).

Jag skaffade min första raskatt 1987. Det var en blåsköldpadd perser, Mon Amies Xanadou "Xanna". När vi hämtade henne träffade jag min första devon rex, en svart hona som skulle ha bebisar vilken dag som helst. Det var det fulaste jag sett, tyckte jag då, men man är väl inte sämre än att man kan ändra sig! Idag skulle jag inte kunna leva utan mina devon rexar!

Det dröjde ända till 1992 innan den första devon rexen flyttade in. En blå hona, EP S*Ferox Rex Procuro "Mimmi". Året efter införskaffades nästa - en blå tonkanesmaskad hane, EP & GIC S*Pipistrello´s Dom Perignon "Spock" . Med dessa två devons har jag åkt land och rike runt på utställningar under -90 talet.

År 2002 bestämde jag mig för att skaffa en fertil hona och hon skulle ju förstås vara blå till färgen. Efter en tids letande hittade jag en blåspotted tjej, EC S*Giggle´s Passaparola "lilla My". Med henne lades grunden för min uppfödning. 2004 registrerade jag in mitt stamnamn S*Rexilia´s och äntligen efter 12 år föds min första kull! Veckan efter föds det en blå tabby tonkanes tjej hos S*Exquisite - en sådan tjej som jag önskat mig i 10 år. Hon flyttade hem till mig i februari 2005, EC S*Exquisite Kathryn Janeway "Ninja".

Detta var lite om mig. Titta runt på hemsidan och ring gärna så berättar jag mer om mina 19 år med devon rex!
My name is Cecilia Börjeson and I breed Devon Rex under the prefix S*Rexilia´s. I live in Götene (which is situated just down under Swedens biggest lake Vänern) thogether whit my 10 year old son Anton. My interest for animals has always been big and to my big happiness do also my son love them. When growing up there has been two black-withe householdpets (Mirre and Snobben), desertmice and also every young girls dream - two ponies(Kermit and Zorro).

I got my first purebred cat in 1987, a bluetortie Persian, Mon Amies Xanadou "Xanna". When I fetched her I also saw the first Devon Rexes in my life, a black female that was pregnant and were going to have her kittens a few days later. She was the ugliest cat I ever had seen then. But noon is that bad that she can´t change her mind! Today I couldn´t live whitout my Devon Rexes!

It was first in 1992 before the first Devon rex moved into our house. En blue female EP S*Ferox Rex Procuro "Mimmi". The year after the next devon came, a blue tonkanesepointed male EP & GIC S*Pipistrello´s Dom Perignon "Spock". With these two Devons I have been travelling all around on shows in the -90´s. The year 2002 I decided to get a fertile female and of course I wanted a blue one! After some looking-around I found a blue spottedtabby girl EC S*Giggle´s Passaparola "Lilla My". She´s the foundation in my breeding. In 2004 I registred my breeding name S*Rexilia´s and after 12 years I had my first litter! The week after a blue tabby tonkinese girl was born at S*Exquisite´s breeding. Exactly what I have dreamt of in 10 years. She moved to my home in February 2005 EC S*Exquisite Kathryn Janeway "Ninja".

This was a short story about me. Please take a look around on my homesite and if you like give me a call and I can tell you more about my 19 years with devon rex!
© Cecilia Börjeson 2006, 2007, 2008, 2009, 2010, 2011